Lire cet article en français >
In keeping with its mission to provide Mauritians access to new products that help them achieve their goals and enhance their financial well-being, Bank One is pleased to announce the launch of two new features on POP, its universal finance app. These new innovative features, POP Save and POP Insure, are yet another first in the market and available to all POP users – both customers and non-customers of Bank One.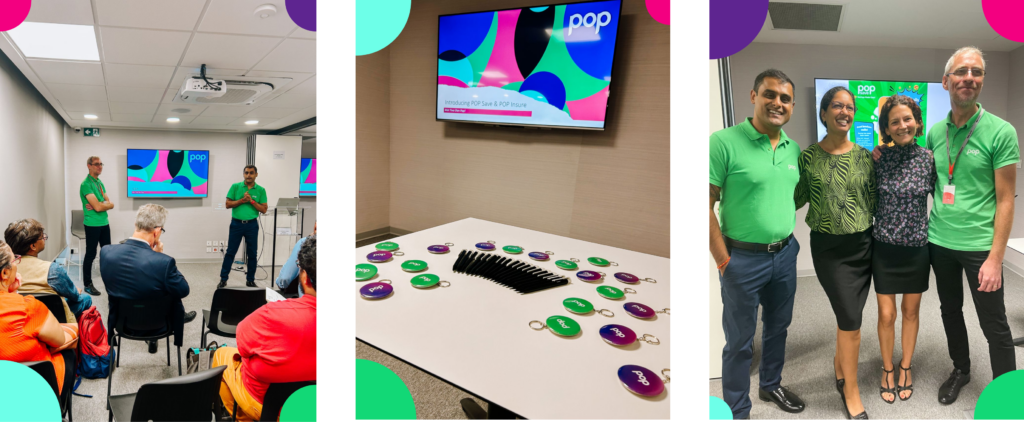 POP SAVE: The ground-breaking new savings solution for all
POP Save is a new money-saving feature that allows POP users to save with ease, by setting up a few simple rules on the app whilst enjoying the most attractive savings interest rates currently offered on the market (4% p.a.). Users can, in fact, automate their savings goals under four specific categories – Auto Save, Smart Goals, Round Up, and Top Up – each of which corresponds to a unique user behaviour and need. Once set up, POP users will see their savings grow effortlessly while still having the option to withdraw their money at any point in time without any penalty. Bhavya Shah, Head of Personal Financial Services at Bank One, says, "We believe that everyone deserves access to the best financial tools, regardless of who they bank with. POP Save is a game-changer in the savings landscape. It provides a new and unique way of saving, which is currently not available in the market. It is intuitive, invisible, seamless, and frankly fun, making it easier for our users to develop a savings habit and achieve their future goals. With POP Save, we want all Mauritians to enhance their savings habit and join in on our mission to foster a culture of 'save-now-buy-later'."
POP INSURE: The ultimate one-stop-shop for all your insurance needs
POP Insure allows users to compare and choose insurance products that best fit their individual requirements and budget, all from the comfort of their own home. POP Insure has partnered with several insurance companies such as SICOM and MUA, to provide a single platform for users to conveniently compare and fulfil their needs ranging from car insurance to home insurance to travel insurance and also life insurance. POP Insure simplifies the insurance buying process and ensures that users always get the best options.
"After the successive launch of NFC, full digital onboarding and payments via the MIPS PayStation in 2022, POP Save and POP Insure are two new disruptive features that our users will love. They are built on our robust suite of digital services and are part of a larger vision to offer more choice for all customers no matter where they bank" says Eric Hautefeuille, COO of Bank One. "POP has definitely paved the way for innovations that will gradually change our habits and make Mauritius a cashless society."
Useful links to learn more about POP Save and POP Insure:
POP Save: https://www.pop.mu/pop-save/
About POP
POP was launched on 30 September 2021 as the very first universal mobile payment solution in Mauritius. The launching of POP by Bank One has been a huge technological leap as digital payments are now accessible and affordable via a smartphone to anyone having a bank account in Mauritius. POP leverages on the MauCAS payment network, owned by the Bank of Mauritius, which aims to make e-commerce, banking, and mobile payments inter-operable. It offers a delightful user experience to individuals and a low-cost acquiring platform to merchants. In a few simple steps, customers are able to connect their bank accounts and use POP to make payments across banks instantly, share bills or pay merchants using any MauCAS QR code or a phone number at no cost to them. Meanwhile, Merchants are able to manage their transactions around the clock in real time and offer a universal digital payment solution to their customers at a fraction of the cost they would normally pay, and without any new investment. Visit www.pop.mu for more information.
About Bank One
Bank One Limited is a Mauritian commercial bank incorporated in 2008 following a joint venture between CIEL Finance Limited, the finance arm of Mauritian conglomerate CIEL Limited and Kenya-based I&M Group PLC. In line with an ambitious digital transformation programme, Bank One has embarked on a series of key initiatives starting with the launch of the first universal digital payment solution in Mauritius named POP and the revamping of its Internet Banking and Mobile Banking platforms. It is a continuous process and several more milestones are planned in 2023. Bank One has deep development finance institution relationships and long-term funding lines in place with the German Investment Corporation (DEG), the International Finance Corporation (IFC) and the French Development Agency (Proparco). Bank One has been rated 'BB-' with a Stable Outlook by Fitch Ratings.
Press contacts:
Ali Mamode, Head of Marketing & Communications
Tel: +230 202 9247, +230 5713 5924
Email: ali.mamode@bankone.mu
Virginie Couronne, Senior Communication and Content Specialist
Tel: +230 202 9512, +230 5258 2926